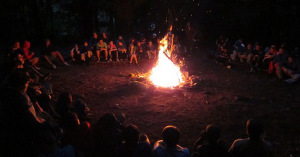 I don't mean to be cynical, but I promise there is a light at the end of the tunnel. For most of us that spent the last three months living in the "outside" world, we have been forever changed by many unnerving things this summer. Death by daylight, politicians with broken moral compasses, violence in foreign countries, teen idols losing their life to addiction, a judicial system-caused uprising in a nation... I would continue, but one heart can shatter no more. For many small secluded communities across the U.S, Canada and countries around the world, their summer experience has been quiet different. Kids, teens and adults of all ages who have spent their summer at camp will look back on Summer 2013 with joy, excitement and fond memories. Recalling inside jokes, late nights in the bunk, out of camp trips, color wars, camp plays and socials, all of this to keep the warmth of summer going deep into the Fall and Winter.
While living in a world with hate, confusion and fear, it it is comforting to know places that build love, honesty and friendship still exist. Read this end of summer "burn out" speech written by a counselor addressed to camp. You'll notice the difference between these light and dark worlds are vast, but there is hope of bringing their differences closer together.
Utopia- an imagined place or state of things in which everything is perfect.

This summer has been one of the best summers of my life and the closest to Utopia I have ever come. I try to think of what my summer would've been like if I didn't come to this place or meet the people I have met. I would have been in a world of ignorance, hate, crime and selfishness. But when I look around this place I see smiling faces, laughter, sharing, hugging and a whole lot of love. I've never been able to appreciate the simple things in life like a friendly conversation before meals, the water front on a sunny day and thousands of stars on a clear night. In a world that focuses on hate and is entertained by violence, these beautiful things are sadly overlooked. The most beautiful and touching thing I have ever seen, came on the night of rope burn. When the White Team's rope fell we celebrated for about thirty seconds before we turned our actions selflessly to encourage the Blue team to keep going and not give up. Imagine a world in which there were no winners or losers, only people who encouraged each other to keep fighting their battles. It would be almost perfect, like this place... a Utopia. They say Utopia is an imaginary place, and I always believed it, until this summer when I stumbled upon this beautiful place and I thank you all.
May the warmth of summer be with you always!
Related articles